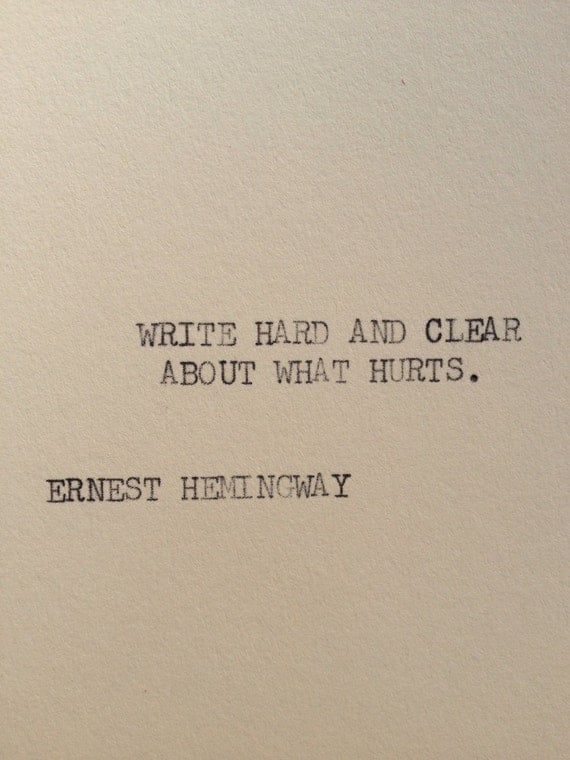 Ernest Hemingway was on to something with this quote.
Can I be honest with you? Can I be real, raw, and emotional? The past three and a half months have been some of the best of our lives. Words cannot explain how much we love where we are, what we are doing, and how God is using us. We truly love it. But there are struggles and I struggle with our blog. I want to share with you all the joys that are filling our lives. The blessings that seem to flow without ceasing. I don't ever want to complain and I never want to be negative. But I long to be real. Genuine. Authentic.
Life in Haiti is hard. I'm not talking about the comfort of living, the lifestyle, the convenience. I'm not talking about any of that. I'm talking about the kind of hard that makes your heart ache. The kind of hard that makes your mind race with questions. The kind of hard that leaves you feeling so much that it sometimes feels like nothing.
Throughout the past three and a half months we have seen things, heard things, and faced things that are just plain hard. Not necessarily personally, but in the communities around us. And to be honest? We love these people. So many of them have truly become family to us and we love that more than words can say. It's those relationships that make it hard and painful when we are reminded of the heartache that resides in those outside the walls of our home.
Life is hard when you see a sick baby in a village, get them to a clinic, and then hear that they didn't make it through the night. How in the world does that make sense? It doesn't. And it's hard. Life is hard when you work with and teach a man who loves the Lord with all his heart, is constantly sharing Christ with the people in his village, meeting their needs, looking out for them, yet has to sleep with his wife and children on the benches of a church because he has no where to live. Oh how we wish we could just build them a house. Life is hard when a dear friend says that her birthday is hard for her because her dad always made her feel special and he is no longer alive. My heart resonates with her. Oh how I pray that not a day goes by where she doesn't feel cherished and loved. Life is hard when you hear of a friend who lost his little girl to a sickness, maybe pneumonia. What?
My heart sometimes feels so heavy with the burdens outside these walls. When I think of the heartache in the hearts of those that are immediately affected by those situations I am left feeling raw. Yes, these things happen all the time all over the world. They happen all the time in Haiti. And I hate it. I hate it even more because these people are my family. Whether we've met just once or we talk almost every day, they are my family. My heart breaks with them and I know the Lord's heart does as well.
In the midst of all the heartache, pain, and hardships that our dear friends face, there is something beautiful that shines through each situation. There is a truth that we can cling to that is unwavering. If there's one thing I know it's that God is good and in Him there is victory. Those precious little lives matter. Oh do they matter. How beautiful it is to know that they are now complete and have full victory in Christ. It is painful, but so very beautiful. How beautiful it is to know that although shelter may not be provided here on this earth, there is eternal security awaiting in Heaven. How beautiful it is to know that the fatherless have a Heavenly Father who loves them deeper than a human heart can imagine. How beautiful it is to know that because of Christ, this world is not our home.
One thing that never ceases to leave me in awe is to watch the peace of Christ fill the hearts of those in pain. To see the Lord reveal Himself to them during the darkest of hours. To hear the joy in their hearts resound in praise. We feel so honored to live with and work with these people who have their eyes so fixed on the Lord that regardless of their circumstances their eyes remained fixed on Him.
Without Christ, there would be no hope. There would be no promise of victory. No promise of eternal life. Just this world. I hope with all my heart that you realize the vastness of that truth. I am so grateful that there is more than just this world. This life is fleeting. But the promise of eternal life with Christ? Hope. Pure hope. What a sweet, sweet promise of hope we have in Him.
Friends, this is why we are doing what we're doing. Hope. We long to share the truth of the Gospel with all those we come in contact with. We long for them to grab on to the hope that is waiting for them and live fully in the freedom that is theirs in Christ.
Will you pray for us? Will you pray for our hearts? Will you pray for strength, wisdom, and compassion as we continue to share hope? Will you pray for those we work with? Will your pray for peace and comfort for the hurting? Will you pray that Christ will be more real to them now than ever before? Will you pray with us that through these situations that the Lord will be glorified and more would come to know Him?
Matt and I are home for the Holidays and our hearts are already missing our family in Haiti. It will be such a sweet time of rest and reunions with friends and family, and we're excited for that. But above all, we are praying that this time will give our hearts time to grow. Time to grow deeper in God's truth. To grow bigger in our love for those in our lives. To grow stronger. More passionate. Compassionate.
Thank you for letting me be real with you. For letting me share my heart.
Thank you for letting me write hard and clear about what hurts.